WA Landcare Network - About Us
The WA Landcare Network formed out of a Community Forum held in Perth in May 2013, hosted by the NLN. In May 2014, WALN was formally incorporated as a not-for-profit organisation with a foundation membership of 10 community groups. As of January 2018 there were 55 member groups. WALN operates with an Executive Committee of five to seven members who work with contracted staff to provide benefits to members and raise the profile of landcare in WA.
The WALN Constitution defines landcare as:
any activity contributing to the improvement of the natural environment. The natural environment includes urban and rural bush, waterways, wetlands, natural parks, reserves, agricultural landscapes, and soils.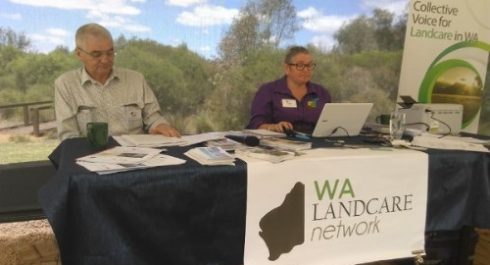 Photo (Pat Hart) – WALN Chair, Keith Bradby and Secretary/Treasurer, Helen Watkins. 2018 WALN Committee Members: Pat Hart, Joanne Ludbrook, Mick Davis and observer Deborah Slater-Lee (State NRM Office)
Our Achievements
Since 2014 we have conducted a wide range of activities this includes;
Vision
A supported network of diverse community organisations working together to address Western Australia's most challenging environmental problems and building communities able to respond positively to changes; resulting in a natural environment with fully functional ecosystems, a sustainable and productive agricultural system; and healthy, happy and resilient communities.
Mission
``To establish an operating and useful landcare network in Western Australia that supports and strengthens the ability of member groups to undertake their work and have strong state, national public and private support and involvement.``
Our Principles
The network is open to all organisations contributing to landcare efforts.
Information from network members will be regularly gathered to make decisions and advocate based on a real-time understanding of what's happening on the ground.
We will use a range of guiding principles to provide clarity and quality control on our operation.
Collaboration is valued as a key route to maximising effectiveness.
Responsiveness to members and all community groups.
Clarity of purpose informed from member input.
An independent voice.

Representing WA at the Federal level
WALN plays an important role representing WA landcare at the Federal level. The WALN Chair currently sits on the National Landcare Network (NLN) providing input and advocating for improved federal support to community landcare.
WALN is pleased to share the news of the formation of a new National Landcare organisation – merging the strengths of Landcare Australia and the National Landcare Network.
The new organisation will give the Landcare movement a single national organisation working on its behalf, which will combine and build on the representative capacity and voice of the NLN and the marketing, education, fundraising and program delivery skills of Landcare Australia.
Please see the communique for more information.
Photo: National Landcare Network Board Members (L-R) Keith Bradby, Geoff Elliot, Terry Hubbard, Sue McKinnon, Peter Bridgewater (Chairperson), Rod Dulhunty, Anthea Ferguson, Jim Adams (CEO), Gerry Butler.